This weekend we released a major update to the Oncord platform.
Admin Design Updates
We've refreshed the look and feel of the Oncord administration console. This update modernises the interface with 'SVG icons'. SVG icons are vector images, meaning that they scale up and down on all devices (mobile through desktop), without loss of quality.
The icons have been coloured according to their type. This enables you to easily identify the part of the system you're working with at a glance.

Here is an example of the icons and their meanings:
Website
Customers
Marketing
Commerce

Designs


Pages


Posts



Contacts


Groups


Email Marketing


SMS Marketing


Automation


Product Categories


Brands


Products

Almost every icon was hand coded for performance and future flexibility.

Beautiful Charting
We 've also updated the appearance of our charts. We've taken a minimalist approach, reducing detail and labels until you hover the data points.
This approach allows you to identify trends easier than the previous charts in Oncord.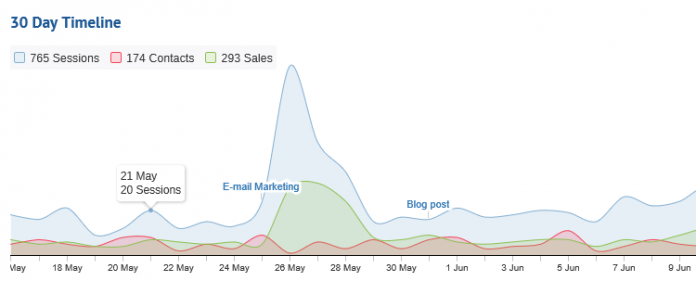 Improved Mobile Support
We've also improved the experience when accessing Oncord on a mobile phone.


50+ Bug Fixes
Over 50 other minor bugs and improvements have been made to the software.
Other enhancements include: import & export of page content, global find & replace tool.


What's Next?

For the past two years, we've been working on a new HTML editor for updating web and email marketing content. This editor overcomes a lot of issues with differences between browsers, which will allow us to provide a perfectly stable editing experience. This editor is now 95% complete, and we expect it to be the next major update to the software.


Experiencing Problems?
First try refreshing your browser. You might have a cache of the old version.
If you are experiencing problems, you can send an email to support@oncord.com.