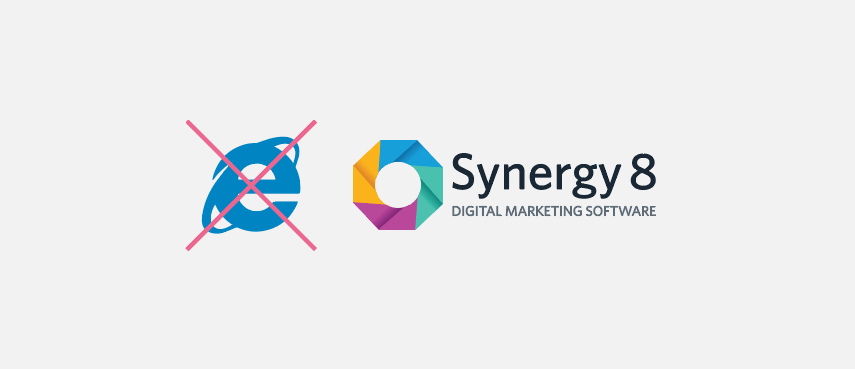 Today's web environment is moving faster than ever, with increasingly efficient API's and browser capabilities being released every day. Modern web software requires modern browsers, and in order to keep pushing our ability to innovate, we have decided that today, Synergy 8 is saying goodbye to website editing in Internet Explorer (IE11).

There are a number of key reasons for our decision. Chief amongst them are feature support, security and future-proofing our customer experience.
Increased Feature Support
At Oncord we pride ourselves on delivering useful, powerful features that can help you grow your business. Writing code for legacy browsers is time-consuming work which would otherwise be spent creating new functionality and integrations for you. With access to new and evolving APIs, we'll be able to more easily innovate and continue to write software which is fast, scalable and easy to maintain.
Security
We take security very seriously at Oncord, and modern browsers help us keep your data safe. Internet Explorer has a patchy history, and although it will continue to receive maintenance alongside Windows 10, it does so as legacy software only. Malicious agents are more likely to target legacy software with malware or known exploits on previous software versions. We recommend that our users protect themselves by using a modern browser which receives regular updates.
Customer Experience
Whether it's dragging and dropping convenient templates in the Editor or managing hundreds of contacts in your database, we're always trying to improve the experience of using our software. Delivering world class software experiences requires the latest web standards and the best tools.
So what does this mean for my Oncord site?
The live version of your site will remain unchanged. Oncord websites will still be optimised for performance in older browsers. This change will only affect where you can access the Oncord Dashboard and editing tools from, so your clients will still be able to visit your website using Internet Explorer.
Recommended Browsers
So which browsers do we recommend for the best experience in Oncord? Any of the major modern browsers will do. We like Chrome a lot, but Edge, Firefox and Safari are all good choices too, depending on your operating system.
Here are some simple instructions for installing Chrome if you're getting stuck.