Improved Google Visibility for Online Stores & E-Commerce Clients
Over the Christmas break the Oncord team deployed a major update of our Commerce features. The aim of the update was to further improve the visibility of your product catalog and online store to search engines such as Google.
The update is now live, and has been applied to all websites. Enjoy!
How to Take Advantage of the Update
Your products have already been updated to reflect the latest changes, however you can fine-tune and override the Keywords, Descriptions and Page Addresses of both your Products, and Product Categories to ensure they're as search engine friendly as possible.
To Get Started:
Login to your Dashboard and navigate to Commerce > Products, and select a product to edit.
You'll note a new tab on the product editing screen titled "SEO". This tab will allow you to fine-tune how search engines interpret your Product.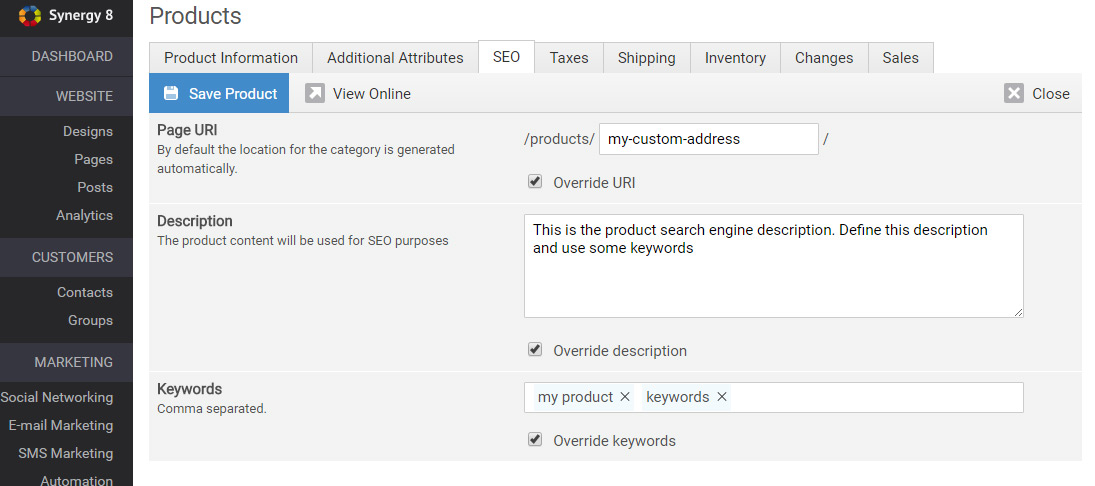 Update Notes
Product Page Address
The website URL address for products has now changed from this format:
www.mywebsite.com/products/1/
To an improved address which uses the Product Title (you can also override this):
www.mywebsite.com/products/my-custom-product/
Product Category Page Address
The URL address for product categories has also been updated:
www.mywebsite.com/products/categories/my-product-category-title/
A New SEO Tab
You can now define the Page Address, SEO Description and Keywords associated with both individual Products, and Product Categories. To help save time those details will be generated for you, using the Product Title and Description.
Meta Tag Review
We also improved how our software generates meta tags for your products, which will allow Google's search algorithm to better crawl your website. Sharing products on social media has also been improved.
See it in Action
If you'd like to see these updates in action, feel free to login to our demo online store environment by completing the free trial form.