We're proud to announce that we've recently been awarded $287,167 in Advance Queensland funding from the Queensland Government.

22nd December 2016
Oncord Awarded
Advance Queensland Funding
We're proud to announce that we've been recently awarded $287,167 in Advance Queensland funding.
Advance Queensland is an initiative by the Queensland Government to invest in our future by harnessing innovation to strengthen and diversify the economy and create jobs.
Knowledge Transfer Partnerships
The aim of the Knowledge Transfer Partnerships program is to foster collaboration between talented university researchers and small businesses. It subsidises two-thirds of eligible expenditure to bring on a recent university graduate to work on an innovative project. Oncord was one of seven businesses awarded a Knowledge Transfer Partnerships grant in round three of the program, valued at $37,167.
Oncord is proud to announce its partnership with the University of Queensland. This partnership has facilitated the search for a recent graduate to join our team, and will assist with ongoing mentoring throughout the project.
We welcome to our team Jacob Greenaway to undertake a research project to build a series of 'intelligent design templates' in Oncord's digital marketing software. These templates will utilise computer assisted intelligence to aid end-users with design. Algorithms will scan graphical input (such as your logo) to generate 'style guide metadata' for use with these templates. The outcome will enable you to create your own website designs, email marketing designs and in-content layouts that accurately match the look and feel of your brand.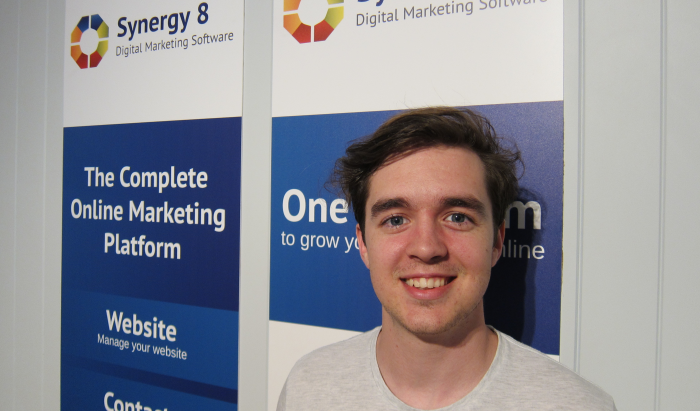 Jacob Greenaway joins the Oncord team under the Knowledge Transfer Partnerships program.
The University of Queensland has also provided an experienced mentor for this project. Dr Marie Boden (PhD) will assist by mentoring in the fields of human-computer interaction and user-experience design. Further collaboration with the university will also occur, such as the facilitation of workshops with students to test and refine prototypes.
Ignite Ideas Fund
The Ignite Ideas Fund supports the development of new or improved products, processes or services to secure investment, launch into global markets and grow business. Oncord was one of 39 successful applicants to receive funding in round one of the program, valued at $250,000.
Under this program, we aim to commercialise Oncord. We truly believe that we have the best product for integrated digital marketing in the world today, however there is a lot more to building a global business than just developing a product. Investment is required in creating systems to onboard and support clients. The Queensland Government is co-funding the following projects to enable us to scale up.
Under the Ignite Ideas Fund, we have the following deliverables:
1.0 Address Product Deficiencies
Cost
1.1 Upgrades to Layout Template System

IN PROGRESS

18000
1.2 SEO for E-Commerce

DELIVERED

18000
1.3 Form Builder

IN PROGRESS

36000
2.0 Enable Direct Client Onboarding
2.1 Design of Templates
20000
2.2 End User Documentation

IN PROGRESS

40000
2.3 Import and Conversion Tools
48000
2.4 Free Trial Processes

IN PROGRESS

80000
2.5 Improve Billing System
24000
| | |
| --- | --- |
| 3.0 Enable Reseller Channels | |
| 3.1 Reseller and Developer API Documentation | 48000 |
| 3.2 Enable Account Creation | 22000 |
4.0 Market Launch
4.1 Expansion of Server Infrastructure
26000
4.2 Exhibition at Tradeshows

ONGOING

50000
4.3 Engage a Partner Manager
45000
4.4 Formulate a Plan to Market
15000
4.5 Seek Investment
20000

Today, we're proud to announce that this funding has enabled us to add a much-needed feature: search-engine optimised e-commerce.
We are grateful for the support provided by the Queensland Government and will deliver on these projects. We intend to continue growing our team in the state of Queensland.
Oncord is proudly supported by the Queensland Government's Advance Queensland initiative.