Hosting A Sub-Site
A sub-site allows you to add a satellite website to your account, which is accessed via a separate domain but managed through the same Synergy 8 Dashboard .
A sub-site must be owned by the same company as your main (*primary) website.
Hosting a sub-site costs an additional $9.00 AUD per month.
Sub-sites are different to sub-domains.
Sub-site vs. Separate Accounts
Before you setup a sub-site, consider the points below to decide whether your site should be a sub-site, or a separate new account:
1. Sub-sites should only ever be "satellite" offerings, like products or services offered by the primary brand. It should represent the same company.
2. Sub-sites share a contact and sales database with your primary website.
3. The shopping cart, payment process, unsubscribe page, product catalogue and all other non-editable system pages need to run from the primary website domain, rather than the sub-site.
4. Separating sub-sites from a main account in the future is usually quite difficult, and a manual process. It's not a good idea to setup a sub-site for a business entity that will need to be separated out at some point (eg. as part of a business sale).
Host a Sub-site
1. Login to the dashboard, and click the "Settings" icon located at the bottom of the the left sidebar (pictured below).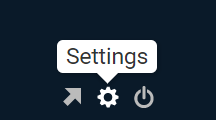 2. Navigate to Domains > Park Registered Domain.
3. Enter the domain name, select the option "Host a sub-site" as the Domain Mode and click "Park Domain" to submit.
4. In order to point the domain name at Oncord, login to your domain registrar and enter these addresses as the name servers :

ns1.synergy8.com
ns2.synergy8.com
ns3.synergy8.com
ns4.synergy8.com