Managing Discounts
This article will show you how to create and manage discounts.
To get started, login to your Oncord dashboard, and navigate to Dashboard > Commerce > Discounts. This page will list all of the discounts you have configured.
Create a New Discount
Click the "New Discount" button towards the top of the page to configure a new discount. On the discount configuration page you will be required to enter the following information: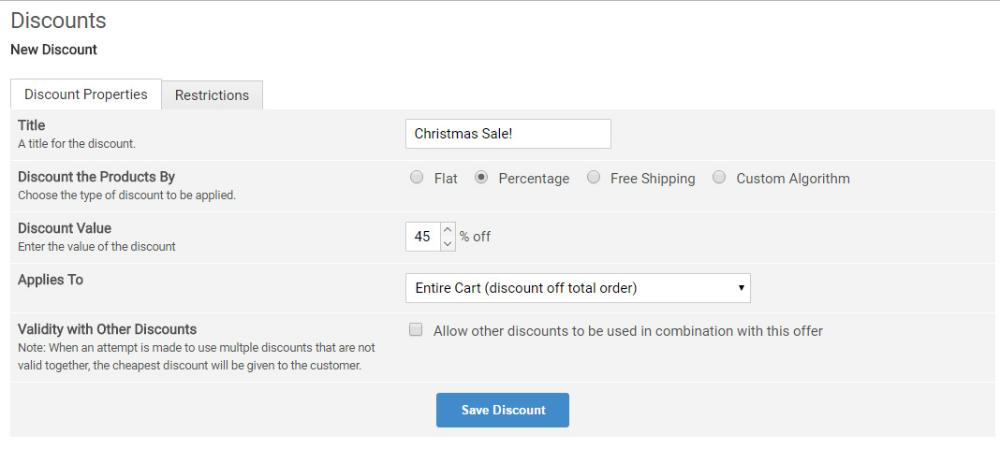 Discount Title: Write a meaningful title, as it's displayed throughout your online store.

Discount Products By: Defines how you want the product to be discounted (e.g. dollar amount, percentage, free shipping, or custom algorithm setup by a web developer).

Applies To: This option determines what products the discount applies to. The discount may apply to the entire shopping cart, a specific product, certain product categories or a brand.

Valid with other Discounts: Whether the discount can be used in combination with other discounts.
Select the "Save Discount" button to create the discount.
Restricting Discounts
The options in the Restrictions tab allows you to define a specific audience for your discount. This can be used to run discounts based on purchase history, interactions with e-mail marketing campaigns, or to give a discount to all contacts in a group of your database.
Coupon Codes
You can specify that a discount should apply when a customer enters a coupon code as part of the shopping cart process. Simply enter the coupon code in the "Require Customer to Enter Code" field.
Contact Filter Conditions
To target a specific audience for your discount, use the drop-down menu titled "Select a Condition".
You can combine and stack conditions, and negate conditions (eg. all contacts in the Members group who have not purchased a product).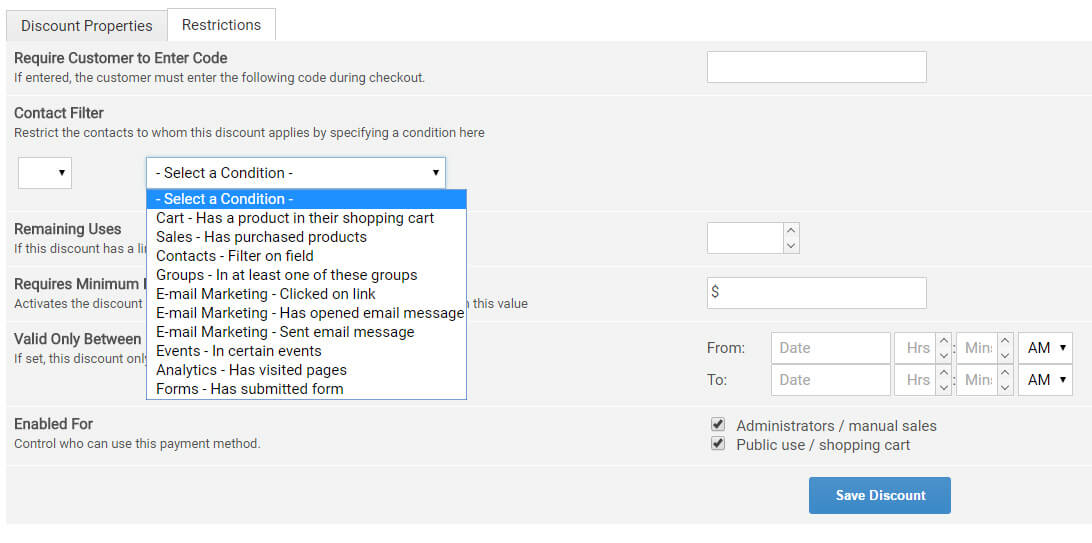 Public Use / Admins
Discounts may be enabled for use publicly through the shopping cart, or only for use with administrators.