Managing Subscribers
In addition to the overarching subscription statuses of "Pending", "Subscribed" and "Unsubscribed", you can also extend your unsubscribe options to allow users to have "Subscription Preferences" to groups that you market to.
An Example
For the purposes of this tutorial we will setup communication subscription preferences to encourage users to reduce the frequency of marketing messages they receive from you, rather than unsubscribe entirely.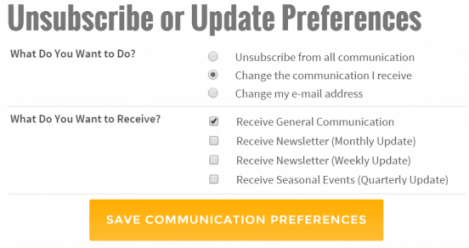 Communication Subscription Preferences
The above image example shows an additional option on the unsubscribe form, allowing users to "Change the Communication I receive". The above outcome is achieved by setting the "Group Communication Unsubscription" option on your groups.
To achieve the above outcome, you need to create a group to reflect each of the communication preferences you would like to allow.
Your groups might look like the below example:


Select the three dots to the right of the Group title to reveal a drop-down menu, then select the "Edit Properties" button to edit the group.
Tick the option: "Allow Group Communication Unsubscription", and click the "Save Group" button to save your updated preferences.
Check your Unsubscribe Form
Your Unsubscribe form can be viewed at: [yourdomain.com]/community/email/unsubscribe/
Management & Administration
When viewing your Group's contacts (click the group name from Dashboard > Customers > Groups), you will notice a new column now appears called "Unsubscribed from Group". Right clicking on this option in the rows allows you to change the subscription status.
The "General Communication" Preference
In addition to your groups showing in the list on the unsubscribe form, you will also notice another option called "General Communication". When your customers opt out of this group, they will only receive communication sent specifically to groups they are joined to.