Contact Management
Learn how to manage your customer database.


---
Importing Contacts
Importing your contacts into Oncord is an easy process.
You can import contacts from an Excel spreadsheet or "CSV file". Most CRM systems, e-mail marketing platforms, and accounting software will allow you to export your contacts as a CSV file, which you can then import into Oncord.
The Process
1) Examine and Clean the Data to Import
As a first step, open your spreadsheet to view the contact data. We recommend using Microsoft Excel to edit CSV files, however you may use Google Sheets as an alternative.
You will see all of your contacts listed. An important step is to examine your data to ensure that fields / columns are setup correctly.
Each field should be separated into different columns. For instance, first and last names should appear in separate columns. For addresses, there should be separate fields for the address line, the suburb or town, the postcode, and the country.
If any fields are merged together, you can use the "Text to Columns" feature of Excel which allows you to split columns by spaces in the data.




Within Excel, the Text to Columns tool can be used to split up columns
2) Marketing Subscription Status and Consent
When importing, the system will by default subscribe new contacts to receive e-mail and sms marketing messages. If you do not want this or do not have consent to send to those contacts, create a column in your CSV file called "Email marketing status". In this column, you can specify three subscription options: 'pending', 'subscribed' or 'unsubscribed'.


pending - used for new contacts who you don't have consent to send to.
subscribed - used for contacts you do have consent to send to.
unsubscribed - used for contacts who were once subscribed but have chosen to opt-out.
If you are unsure about whether you have consent to send marketing campaigns, please consult your local spam act or seek legal advice.
3) Save as a CSV File
When you have finished examining and updated the spreadsheet, save the CSV file. In Excel, you may need to do this by going File -> Save as and choose the CSV UTF-8 (Comma delimited) option.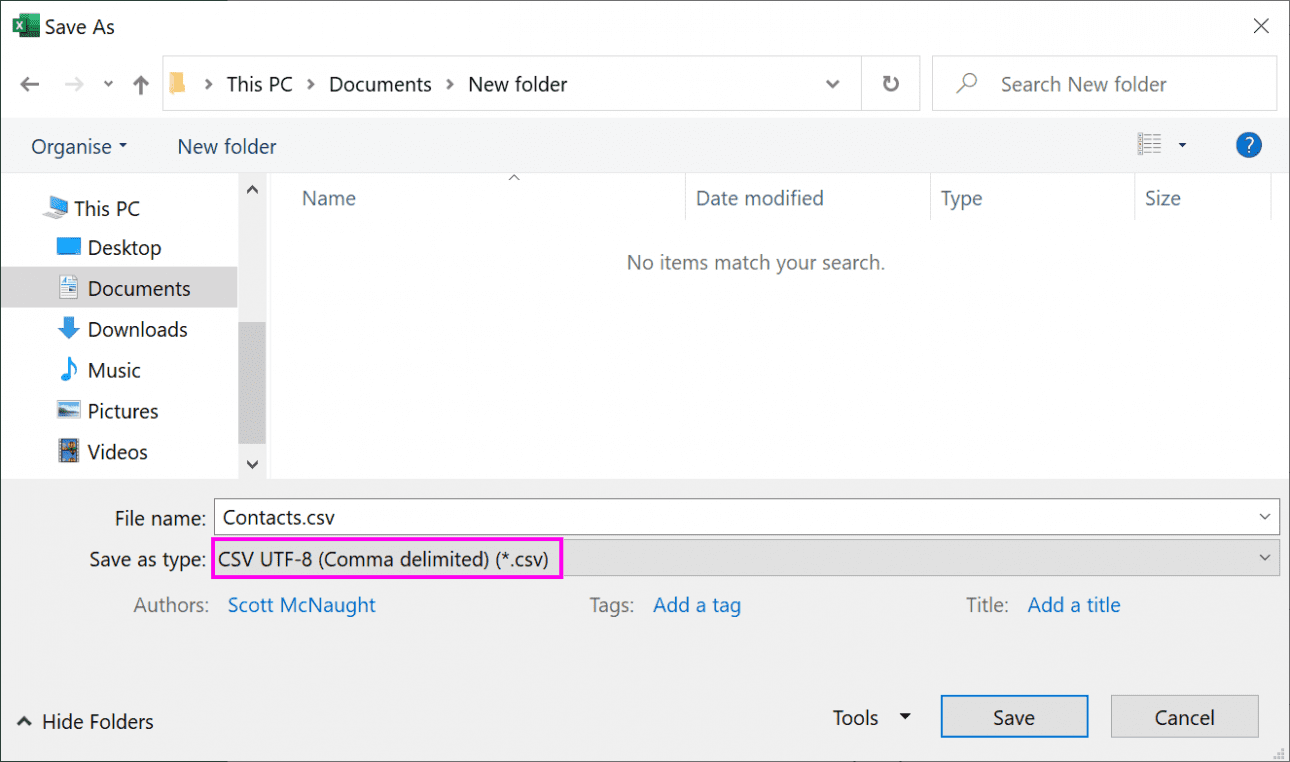 4) Import Into Oncord
Now that you have prepared your data, its time to import!
It is recommended that for any import, you should create a new group to import these contacts into. To create a new group, login to Oncord, and select the Groups link in the left sidebar.



When you are ready to import your contacts, select the "Contacts" link in the left sidebar, and click the "Import" button at the top of the screen.

Choose the recently saved file from your computer and press Next configure the import.
Specify whether your spreadsheet has a "heading row" (the first row in your spreadsheet defines the labels of each of the columns).
You are then given options to map the columns in your spreadsheet to contact fields in Oncord. The system will try to automatically map these for you; however you must check and fix them to ensure they are correct.




In the additional settings tab, you can control if the emails are to be validated during import, to ignore or import contacts without emails addresses, and whether to override contacts that already exist in the database.
You will likely also want to add the contacts to a group.


Once you have configured the import, the system will show you a preview of how it is going to import the data.
Click on the link up the top to see which contacts will be imported, merged, and skipped.

After importing contacts, you can take advantage of Oncord's powerful marketing and management tools.
It's a quick, simple process and you will be ready to go in no time!



---
Additional Information
Companies and Relationships
If you specify a "Company" column in your CSV file, contacts will be linked by the relationship type "Employee" to the Company record.
In the following example:
Jane will be created as an Individual
Oncord will be created as a Company
A relationship of type Employee is created between the two contacts


If a company with the name you specify doesn't exist, a new contact of type company will be created.
Otherwise if the company record exists, the existing contact will be used.
Importing a spreadsheet of companies and individuals will likely result in more contact records being created than the number of rows in the spreadsheet. This is due to both individual records and company records being created.
Importing Admin Notes
Notes can be imported onto Contact records by mapping a column for the notes.


When importing into Oncord:


After importing, notes will appear in the contacts activity feed:

Date Formats

Because there are many ways to format a date, we recommend having all dates in the format of:
YYYY-MM-DD
If a time component is included, it should be in UTC time.
YYYY-MM-DD HH:MM:SS
If you do not use the above formats, system will try to guess the format of the date. This can be the cause of incorrect swapping of day and month fields due to the way American formatting (month first) vs British formatting (day first) of dates.
---
Filtering Contacts
This article will show you how to filter your contact database based on a set of conditions such as purchase history, form submissions, interactions with e-mail campaigns, groups, analytics and event attendance.
The "Filter by Conditions" feature is also used throughout the e-mail marketing component of Oncord, making this technique handy for segmenting your contact database before sending a targeted campaign.
Filter by Conditions
To get started:
Navigate to Dashboard > Customers > Contacts to view your contact database.
Click the "Custom Filter" option at the top of the table, which will open up the Filter by Conditions engine.
A search bar will appear underneath with a list of available condition options that you can choose to create a custom filter (The condition options displayed will depend on your pricing plan).
After selecting a condition, additional options specific to that condition will be displayed underneath, allowing you to make your query even more specific.
You can stack query conditions by clicking the blank area on the right, and you can also use negated logic operations by clicking the icon at the top right of the condition.
The following example demonstrates how to retrieve all contacts who are members of a certain group but have not made a purchase.
The filter will be applied instantly after you specify conditions. You can also export contacts as a CSV file by clicking the "Export" button after filtering contacts by conditions.
---
Exporting Contacts
It's easy to export your website contacts as a CSV file with Oncord. A CSV file is the most common file type for dealing with importing and exporting contact databases. This file can be opened with Microsoft Excel or imported into other applications. This article will also examine how to export a segment of your contact database from a specific group.
Export all Contacts
Log in to the dashboard of your website.
In the left-hand menu, select the "contacts" page, which is located under the Customers section.
This page will list all contacts in your the database, at the bottom right of this table is a small link titled "Export Data", which will export the entire contact database as a csv file.
Export all Contacts in a Group
If your contact database has been segmented into groups, you can do an export of a specific group.
Navigate to Dashboard > Customers > Groups.
Click the contacts link which corresponds to the group you would like to export. (ie. 346 contacts) to view all the contacts in this group.
At the bottom right of this table is a small link titled "Export Data", which will export the group contacts as a CSV file.
Export Contacts based on a Filter
You may opt to export contacts who meet a set of conditions you specify, based on groups, sales data, form submissions and more. To export contacts who meet a set of conditions follow these steps:
Navigate to Dashboard > Customers > Contacts.
Select the "Filter by Conditions" menu item in the top menu bar on the Contacts page to open the conditions engine (link pictured below).
Select your set of conditions, and click the "Filter Contacts" button to apply the filter.
The contacts who meet the conditions you have specified will be displayed
Click the "Export Data" link in the bottom, right-hand side of the contact table to export the contacts as a CSV file.